Debut Biblical Era Novel From Author Elizabeth Jacobson Examines Faith in the Midst of Betrayal and Abandonment
Author Elizabeth Jacobson and WordCrafts Press are celebrating the release of Jacobson's debut Biblical-era historical fiction tale, Not by Sight: A Novel of the Patriarchs, which released on Wednesday, March 16, 2022, in hardback, trade paperback, and Kindle ebook. The new novel immediately captured the hearts of reviewers and readers alike, propelling it onto multiple Amazon.com bestseller charts, including debuting at Number 45 on the online retailer's Bestsellers in Biblical Fiction chart. The novel also charted at Number 4 in Hot New Releases in Biblical Fiction, Number 7 in Hot New Releases in Religious Biblical Fiction, Number 9 in Hot New Releases in Ancient Historical Fiction, Number 57 in Hot New Releases in Christian Historical Fiction, and at Number 57 in Hot New Releases in Inspirational Religious Fiction.
"There were times I found myself holding my breath, even though I knew what was coming," declared Mary Dipple, author of The Lotus Chronicles. "There were so many passages that I just want to tuck into my heart and take with me."
"From the first chapter, I was immediately captivated," wrote book blogger, The Christian Bookworm.
"Jacobson takes the age-old and often romanticized story of Joseph and brings it to life…Joseph becomes a flesh an blood person with real challenges, heartaches, and questions that we can relate to and understand," adds Claire Tucker.
The novel explores a question that is as relevant today as it was 3,000 years ago: What could make a man turn to God when every event in his life screams that God has turned His back on him?
The story follows Joseph, the eleventh son of the patriarch Jacob, who had his father's favor—and that was his downfall. Sold into Egypt by his enraged and jealous brothers, Joseph is left with nothing to cling to except the stories of his father's God, a seemingly remote and unreachable figure.
Faith may prove futile, but Joseph is desperate—for the very hate that enslaved his brothers has begun to overtake him.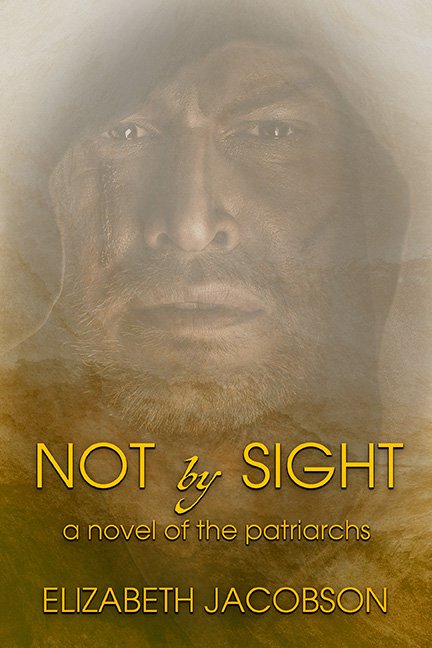 "My novel, Not by Sight, is an exploration of a journey of real, human faith," Elizabeth muses. "Joseph is portrayed as a paragon figure so often—but I wanted to explore a real person, who fails, grows, and fails again on his journey of coming to understand his God. Because that is all of our journeys of faith! From my book, I hope people see a picture of a forgiving God, Whose plans are perfect even when it seems like He is far away. I hope people see that when we stumble it is not the end. He is still preparing us for His plans, and He is there to pick us back up and show us how to walk with Him."
Joseph turned as the back cur­tains unexpectedly parted and Lady Tetisheri stood there, face determined. "Lady," he said finally. His heart pounded, and he took a step back­ward. "What can I fetch for you?"
Her voice dropped to a whisper . "Lie with me."
Joseph's breath caught in his throat. It was time to take a stand. "Lady, I will not hear this."
She cocked her head, a slight frown creasing her features, and she stepped forward. "You shall, for I am your mistress." Her voice dropped to a whisper. "Lie with me."
He whirled to go, but before he knew it, she was upon him. She clenched his tunic. "Lie with me," she hissed.
He tore away, and his tunic split, left in her hand. Down the corridor he ran, dressed in only a shendyt like a yard-slave. The lady shrieked, the sound following him through the house and grounds like her grasping hands. Joseph stumbled out of the door into the courtyard and turned in horror at the sound. On hands and knees, he gasped for breath, tasting blood.
"My God," he whispered, aghast.
He would be accused of rape.
"Elizabeth Jacobson's Not by Sight dives deep into a simple, familiar, Sunday school Flannelgraph story to reveal a tale that is far more complex, and far less familiar than expected," says WordCrafts Press publisher, Mike Parker. "In the world of the patriarchs, life is gritty, people are flawed, faith is not just a belief system but a way of life, and actions—both noble and nefarious—have far-reaching consequences. I couldn't put it down."
About the Author
Elizabeth Jacobson is a middle-school math teacher in sunny California who loves the Bible, fantasy, and science fiction. She got bit by the writing bug at age thirteen and has been frantically putting words on pages ever since. Her goal in writing is to share with the world the most important message anyone can express: the Love of God and His Son, Jesus Christ.
Not by Sight: A novel of the Patriarchs is her first novel.
Connect with Elizabeth online at:
www.headdeskliz.com