I watched the original Star Trek during my junior high years in the late 60s. Although it was decades before the Internet and blogging, my best friend Susan and I kept journals about the series, detailing each episode and adding our thoughts about the storyline and the characters. Like other young girls, we switched our romantic interest between Captain Kirk and Mr. Spoke, although our hearts occasionally fluttered over Chekov and some of their guest stars, such as Ricardo Montalban, who played the brilliant super-villain Kahn.
I confessed all that to say that, when I was offered a chance to review Star Trek FAQ, I responded with a little more enthusiasm than normal. I am happy to say the book has exceeded my expectations.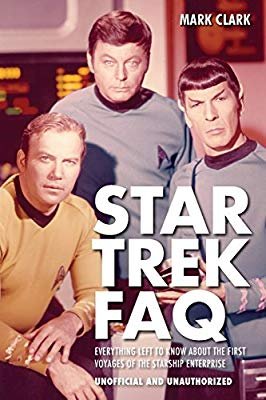 Star Trek FAQ; Everything Left to Know About the First Voyages of the Starship Enterprise
By Mark Clark
Applause Theatre & Cinema Books
From the back cover:
Star Trek FAQ tells the complete story of Star Trek, from the before the beginning (the books, films, and TV shows that inspired producer Gene Roddenberry to create Star Trek) until after the end (when the show emerged as a cultural phenomenon in syndication), and including dramatic behind-the-scenes stories (e.g., Leonard Nimoy's struggle with alcoholism and actress Grace Lee Whitney's controversial firing) often omitted from "authorized" histories of the program. Along with in-depth looks at the pre- and post-Trek careers of the show's iconic leads, Star Trek FAQ includes profiles of guest stars and "redshirt" extras alike, as well as the many writers, technicians, and artisans whose efforts enabled Star Trek to take flight. The book also explores the show's unprecedented resurgence in the 1970s with chapters devoted to early Star Trek fiction, merchandising, and the short-lived animated series. Combining a wealth of fascinating information about every facet of the show's production with original analysis of Star Trek's enduring appeal and cultural influence, Star Trek FAQ goes where no Star Trek book has gone before.
Whether you consider yourself a Trek-novice or Super-Trekkie on the scale of Big Bang Theory's Dr. Sheldon Cooper, Star Trek FAQ is a great book to own. Mark Clark wrote each chapter to stand on its own, allowing readers to jump back and forth from the biography of Gene Roddenberry, to how the series was birthed, to what happened to cause the series to be cancelled, to the behind-the-scene feuds between the actors and crew, to the obsession over the series that has followed its demise. The book is entertaining and filled with nostalgic press photos and artwork.
As a media reviewer, I have mountains of books, CDs, DVDs and sundry product sitting in the corner of my office. After reviewing them, they eventually find their way to the homes of my friends and family. Star Trek FAQ, I am happy to confess, will remain in my personal bookcase.